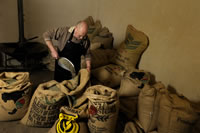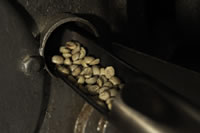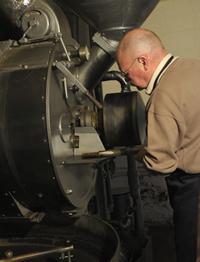 Mastery and Expertise
The roasting, an operation that is oh so delicate, is of course the major step without which the divine beverage would not exist. So roasting is the heart of our business.
However, before this step, we have the preparation of the "House" blends, that is to say the art of mixing the various flavouring tones which the many varied origins of the coffee will bring to the roasting process. Obviously the combinations are many and varied, and are created through the inspiration of the craftsman. However, the principal condition for developing a blend and its marketing is the guarantee of consistency in the purchase of the chosen products.
Then comes the delicate, crucial operation that is the roasting process which will allow the coffee, thanks to the impact of the heat, to reveal all its flavours. Here once more the traditional method cannot be equalled! In fact our old-style roasting process allows us an optimal control of the timing required. The smell, colour and crackling of the beans indicate the ideal moment. The decision to bring an end to the roasting process is taken here in a matter of seconds.
It is in the experience and complete mastery of the senses where the expertise of the coffee roaster lies.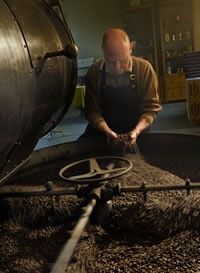 The traditional process, which lasts longer than its standard manufactured counterpart – 20 minutes rather than 5 – allows the heat to rise gently (200° maximum), while making gradual changes to the coffee. The appearance and taste of a crafted roasted coffee are superior by a long way to the quality offered by standard manufactured coffee which is itself prepared in 5 minutes at 800°, with profitability being the sole concern.
Perfect roasting, carried out by real connoisseurs, must be performed gently but sufficiently to allow the coffee to reveal the fineness and subtlety of its numerous flavours.