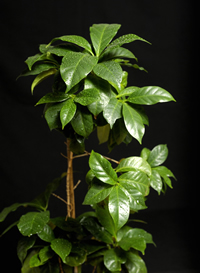 Sustainable organic coffee, local distribution and local trade
Our selection of choice blends comes with a label for sustainable consumption, that of the Efico Foundation, a major player in the import of raw coffee in Belgium.
The Efico label, which is present on the package guarantees that the coffees which have been produced support sustainable development projects in the coffee and cocoa producing countries. You will find more detailed information on www.eficofoundation.org
The Efico Foundation is, via a fund of the same name, involved in investments the aim of which is to promote sustainable high-quality coffee production, which will allow participating plantations to display a label indicating sustainability and to obtain a premium price on the market. Moreover, a part of the selling price of each of foundation's coffee packets is intended for development projects aimed at improving the quality of life for all members of the community where the coffee is produced. Small, medium and large plantations as well as cooperatives can therefore face any competition, and offer work and a better quality of life to thousands of farming families.
In addition to these advantages is the fact that the growers gradually obtain the means to invest in the sustainable management of their plantations which leads to an improvement in the quality of the coffee and makes them more competitive!
The practical contribution to this project involves the addition of €0.25 per kilo on the purchasing price of the coffee. Thanks to the fixed increase on the price per kilo, the coffee roaster can support development projects, and the consumer need not give up his favourite beverage and move to a sustainable coffee product.
Since 2005, the administrative and financial operations of the Efico Fund have been overseen by the King Baudouin Foundation which brings its experience and professional competence to the approval and implementation of the projects.
Note also that 100% of the collected funds are intended for the projects.
With regard to sustainable agriculture, certain locations receive Rainforest Alliance labels (www.rainforest-alliance.org) and Utz certified Good inside (www.utzcertified.org).
Rainforest Alliance certification serves to prove that the product was obtained while respecting 200 requirements which also cover the protection of environment, working conditions, health and safety, social commitment and the treatment of waste. It guarantees the environmental management and social responsibility of the plantations.
The UTZ Label guarantees that the product satisfies the Utz Certified code of conduct, which incorporates economic, social and environmental criteria.
Some of our coffees are also available in "Organic" brands.
Finally the development of deliveries by us, from producer to consumer, without going through various distributors or intermediaries, allows us to follow a genuine path involving local distribution, with direct benefits for the environment and the prices that we charge.