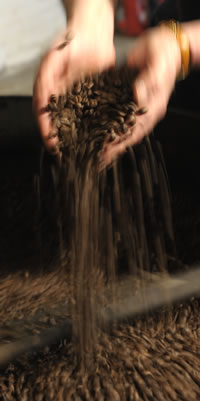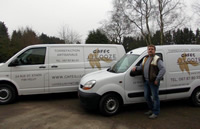 Freshness and delivery
We perform our roasting process every Monday to produce the necessary quantity for our weekly sales.
We prepare each order on the day before delivery. You will not find a single packet of conditioned coffee in our establishment, whether in grains or ground, if it is not part of an order for the following day. This method of manufacture is essential for the best possible preservation of the coffee's aromas, and guarantees you a genuine high-quality product.
It is also an absolute priority for us to point out that the same varieties are used whether they are intended to be sold as grains or ground.
Please also realise that in order to best satisfy the needs of our customers, we offer different types of grinder adapted to the needs of each particular espresso machine, percolator or samovar.
We provide weekly deliveries in the Brussels area every Tuesday, Wednesday and Thursday; Orders for provincial areas are delivered on Fridays. We also deliver once a month to Ghent, Antwerp, Liège, Huy and Luxembourg.
We deliver to the hospitality industry as well as businesses and individuals on our e-shop.
Our workshop is also open to the public from 0900 to 1700 from Monday to Thursday.